Leonid Brezhnev Televised a speech for Soviet citizens. He announced that the Soviet Union… Reordered in Moscow… Here we present various stock clips and black and white footage of BREZHNEV- GENERAL SECRETARY OF THE SOVIET UNION IN KREMLIN.
Mr. Brezhnev and President Carter, meeting in Vienna on June 11, 1979. In addition, we have more Stock footage on Brezhnev, for example, him at the ceremonial Soviet Party meetings. Members of the Communist Party awarding Leonid Brezhnev with a medal. Communist Party official gathering.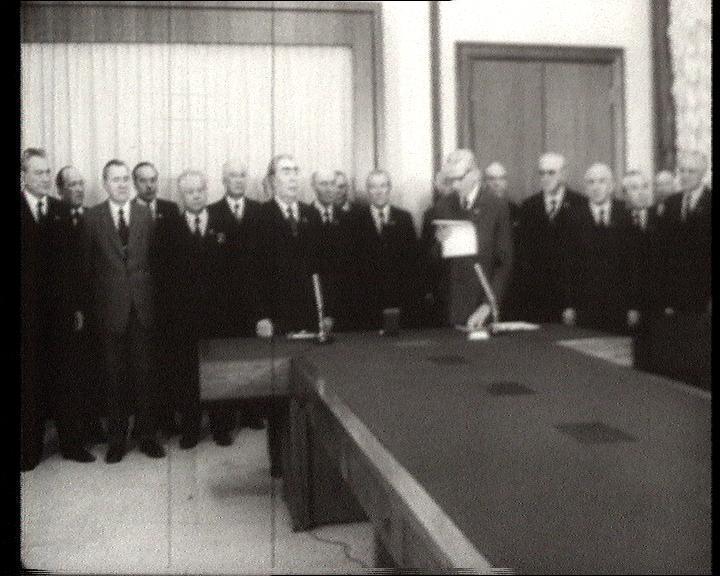 PAL 720 X 576 Stock footage of Crowd applauding Brezhnev and other dignitaries walking on the street, Leonid Brezhnev raising arms holding on to other overseas party leaders during Party Congress. Some tapes also available on film tape and could be digitized in HD.  
General Secretary of the Soviet Union in Kremlin Brezhnev Meeting Mohammed ZAHIR SHAH OF AFGHANISTAN in Kremlin, Soviet-Afghan 1971 USSR
Other Stock footage from the 70th includign Afganistan related Royaty Free videos. 
TVDATA Stock Footage of Official and casual Meetings of various Leaders and Presidents of Russia and USSR
Boris Yeltsin meets Victor Chernomyrdin
TVDATA producers work with various sources including Gosfilmofond  – former Russian state archive