Reactor Control room, Chernobyl nuclear power plant during USSR era. Soviet Ukrainian Staff working on 1980 Chernobyl. Here we present Chernobyl Archival Video collection before the accident.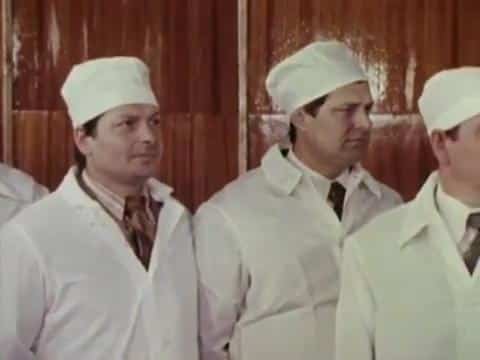 Stock footage featuring the first USSR atomic bomb test in 1949. And the following year, Stalin personally signed the decree of the Council of Ministers of the USSR "On research, design and experimental work on the use of atomic energy for peaceful purposes."
Chernobyl Archival Footage
On September 26th in 1977 the first power unit starts operating the Chernobyl NPP. It took a long time to choose a suitable place. The launch was delayed several times and the work progressed slowly. Besides, necessary workers delay supply of necessary materials. In parallel, three kilometers from the station, a new city was being built for its employees – Pripyat. At TVDATA's stock footage library, we have Chernobyl Archival Videos from various years, starting from the day the accident happened until now.
Exclusive Interviews with Chernobyl victims in Belarus
Although the Chernobyl nuclear power plant is located in the territory of Ukraine, most of the victims are in Belarus. This was due to the direction of the wind at the time of the disaster. The agricultural lands of Belarus turned out to be unsuitable for cultivation. The country had to abandon them, which led to a serious loss in the economy. Please, explore our stock footage collection to understand what other interesting facts about Chernobyl exclusion zone.
Mankind disaster stock footage related videos:
At TVDATA, we redefine the concept of stock footage. Unlike traditional libraries offering pre-cut clips, we put you in control. You select the exact length and timing, ensuring the perfect fit for your project. Our unique approach provides you with the ultimate creative freedom. Our highly skilled team diligently curates our high-quality footage collection, ensuring…

Tensions in Armenian Azerbaijan news from Nagorno-Karabakh interview footage; Camera Crew in Armenia ; Nagorno-Karabakh Unfiltered: Ground Zero Perspectives with an Armenian Lens

Films 🎥 cameracrew services on the Russian Far East

Meet our cameraman, Artur, in Ukraine 🇺🇦! With his Panasonic AG series camcorder I[email protected] filming 🎥 in various locations in Ukraine

Human Stories Production Beyond the headlines and statistics, our cameras seek the heartbeats, dreams, and resilience of individuals, each with a unique story waiting to be heard