West cigarettes, a brand under the Tobacco company, have been present in numerous countries worldwide, including Russia. Video featuring details on the early 1990s introduction of West cigarettes in Moscow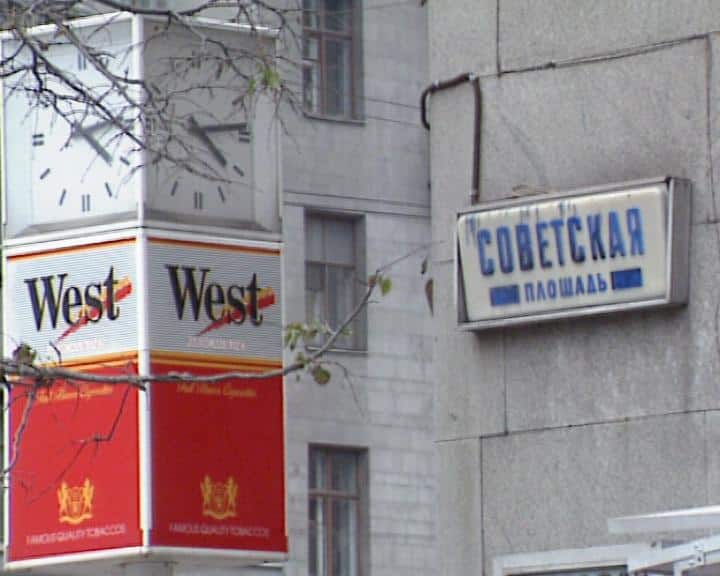 Introducing our latest collection of stock footage, featuring the iconic brand West Cigarettes. As the first brand of cigarettes introduced to Russia after the collapse of the USSR, West quickly gained popularity and became a symbol of the country's newfound freedom and openness to the world.
West Cigarettes: Footage Exploring the Iconic Brand's History in Russia
The expansion of West cigarettes to Russia was a significant moment in the country's post-Soviet history. After decades of isolation, the fall of the USSR in 1991 marked a new era of openness and opportunity for Russia. Western products, including cigarettes, began to flood the market.
The brand's sleek packaging and distinct flavor profile, which included menthol and other unique blends, set it apart from other cigarette brands available in Russia at the time.
West cigarettes, as the first Western brand to enter the Russian market, quickly gained popularity among young and affluent Russians who were eager to embrace the trappings of a new, cosmopolitan lifestyle.
The rise of West cigarettes in Russia also reflected broader social and cultural changes taking place in the country. As Russian society became more open and consumer-oriented, Western products and brands became a status symbol, representing a connection to a wider world of possibilities.
Our collection of West cigarettes footage captures the brand's impact and cultural significance during this pivotal time in Russian
Whether you're a filmmaker, content creator, or educator, our collection of West Cigarettes footage is a valuable addition to your visual library.
Our footage captures the unique cultural significance of West cigarettes, from the sleek design of the cigarette pack to the distinct flavor and aroma that sets this brand apart from others. You'll see footage of smokers enjoying West cigarettes in various settings, from bustling city streets to picturesque countryside landscapes, as well as shots of the manufacturing process that brings this brand to life.
Use it to add depth and nuance to your projects and tell compelling stories about this iconic brand and its role in Russia's history.
However, it is important to remember that smoking and tobacco use is harmful to health and has been linked to a range of serious medical conditions. By using our footage, we do not endorse or promote tobacco use in any way.
However, it is crucial to bear in mind that smoking and tobacco use poses severe health risks and is strongly associated with several medical conditions, including lung cancer, heart disease, and stroke. Therefore, adopting a healthy lifestyle and refraining from tobacco use is of paramount importance for safeguarding one's health and well-being.
Went cigarettes
British American Tobacco (BAT)
Moscow
Introduction of Kent cigarettes
United States
Popularity
Global reach
Health risks
Lung cancer
Heart disease
Stroke
Healthy lifestyle
Tobacco use
Medical conditions
Well-being
Went cigarettes are a brand of cigarettes produced by the multinational tobacco company. Cigarettes are known for their filter design, which was developed to reduce the level of harmful tar and nicotine inhaled by smokers.
If you're interested in learning more about the history and cultural significance of Went cigarettes in Russia or would like to see footage related to this iconic brand.
Check out our collection of stock footage.
Introducing our latest collection of stock footage, featuring the iconic brand Kent Cigarettes. Take a journey through the brand's rich history and cultural significance, from its humble beginnings in the United States in the 1950s to its global reach today.
Our footage captures the essence of this iconic brand, from the sleek design of the cigarette pack to the distinctive advertisement that sets it from other cigarette brands. You'll see footage of smokers enjoying cigarettes in Moscow streets.