Stock footage from 1999 of an apartment building explosion in Moscow where 300 people died and 1,500 were injured. This video is digitized in 10 bit uncompressed from Betacam SP tape AR54. It originates in PAL 720 X 576 and is available for worldwide licensing. Real-time filming minutes after the explosion accident on Guryanov Street in Moscow.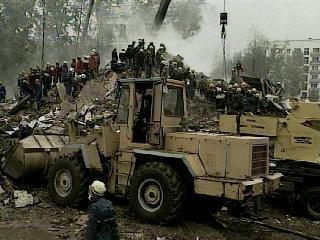 ARCHIVAL FOOTAGE COLLECTION ON TERRORISM Terrorist Attacks in Russian town Beslan where terrorists held 1100 people. Among hostages were 777 children. The crisis began when a group of armed men seized the hostages at the school.
Here we present various archival videos on terrorism associated with Chechnya. An explosion in the Okhotny Ryad shopping centre on Manezh Square in Moscow in August 1999 In addition, on September 21, a residential building on Kashirskoye Shosse is blown up. As a result, in late September 1999, the Russian military began the massive bombing of Grozny. In addition, Vladimir Putin, then prime minister, pledged to "wipe out terrorists in the outhouse" in the Chechen capital.
Stock footage of the Chechen War
Due to YouTube restrictions, we cannot post the whole preview 30 min long preview sequence. The reason is that it contains scenes with dead and injured people. Therefore we kindly ask you to look at the screenshots here. Besides, you can also request a preview file via [email protected].