Camera Crew and English-speaking Producer in Armenia, Yerevan and Nagorno-Karabakh. Cover news events in Armenia, Yerevan, and Nagorno-Karabakh, including breaking news and feature stories
Produce news videos and films, edit video clips, write accurate news stories scripts under time pressure. Our team is highly organized, and we edit to tight deadline both in the field and in the Armenia, Yerevan, and Nagorno-Karabakh office
Research and pitch story ideas which travel well for broadcast and digital platforms
Work as part of a team covering events starting from planning through to field work in Armenia, Yerevan and Nagorno-Karabakh
We are thrilled to introduce our talented Shoot/Edit Cameraman based in Armenia. With their exceptional skills in camera operation and editing
Our Shoot/Edit Cameraman is a true artist, capturing compelling footage in various locations across Armenia, including bustling towns and vibrant cities. His expertise shines through as they craft engaging news packages, fast-turnaround stories, and captivating feature pieces.
Staying at the forefront of technology is a priority for our Shoot/Edit Cameraman. They are always up-to-date with the latest advancements in Electronic News Gathering (ENG) technology relevant to Armenia, ensuring that our production remains cutting-edge and visually impactful.
Our Shoot/Edit Cameraman's works closely with Producers, Correspondents, Editors to cover breaking news and deliver compelling feature stories across Armenia
Traveling is an integral part of their role, and they embrace it wholeheartedly. From making travel arrangements to coordinating accommodations and transportation, they ensure that every assignment is executed flawlessly. Their planning diary is meticulously maintained, ensuring they are well-prepared for upcoming news events in Armenia, including handling accreditation, visas, and travel requirements efficiently.
When it comes to breaking news, our Shoot/Edit Cameraman thrives under pressure. They are always prepared to respond swiftly, with their equipment ready for immediate deployment. Collaborating closely with Producers and Correspondents, they assist in researching and planning assignments, ensuring that every story is covered comprehensively.
Their talents extend beyond shooting and editing. Our Shoot/Edit Cameraman is well-versed in producing and editing content for web and social media platforms, amplifying the reach and impact of our news stories. They work seamlessly with correspondents and producers to deliver live hits into CBS programming, capturing the essence of each story in real-time.
With a finger on the pulse of social media platforms, our Shoot/Edit Cameraman stays informed about current stories and breaking news. They understand the importance of remaining connected and relevant in today's media landscape.
Our Shoot/Edit Cameraman diligently ensures that all rights, clearance, and licensing requirements are met for third-party, and archival material. They also foster a strong relationship with local Armenian news organizations, exchanging editorial information, video, audio, and resources as part of our newsgathering agreement.
With their exceptional skills, unwavering passion, and dedication to excellence, our Shoot/Edit Cameraman in Armenia plays a pivotal role in delivering top-quality news content to our viewers. They are a valuable member of our team, shaping the way we inform and engage our audience.
we produce stories our clients need from Armenia, Yerevan, and Nagorno-Karabakh
Multilingual Russian Television Producer filming in Petersburg Russia – Ancient Aliens Series 3 for History Channel. A producer conducts interviews on location in the Russian city of St. Petersburg on behalf of History Chanel. We recorded an interview following the brief for a documentary television program, "Ancient Aliens" Series 3. On this occasion, our client was the history Channel. The interview was in Russian and later on translated into the English language. To book a film Producer or a Russian bilingual fixer, please contact [email protected]. For Russian-English translations and subtitles, please refer to our subcontractor https://russian-english.com.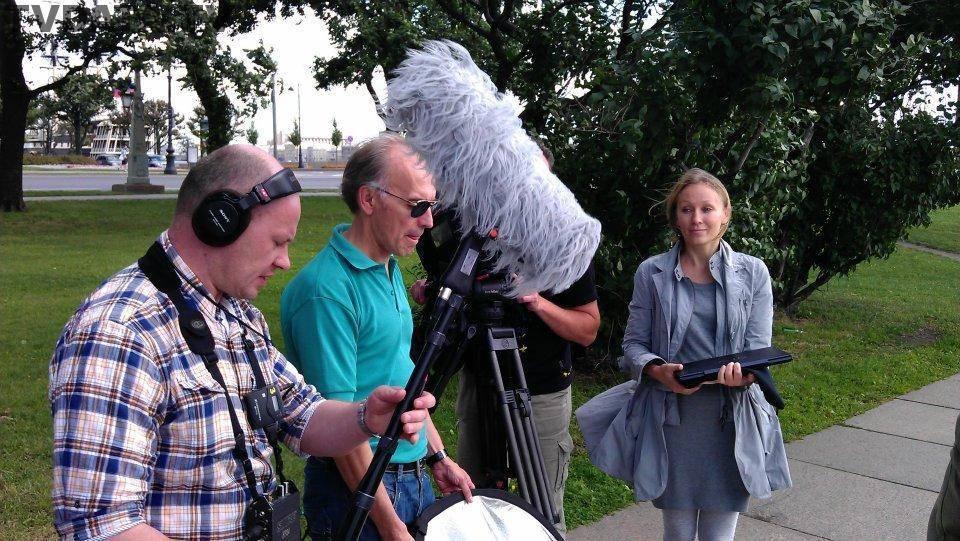 Filming in Petersburg for a History Channel
Soundman Oleg Koneff, located in St. Petersburg, is an experienced sound engineer in television and Film audio Production. Oleg is a Russian Speaking sound specialist, highly qualified. Please note that you would need a translator or an English-speaking producer in case you do not understand Russian.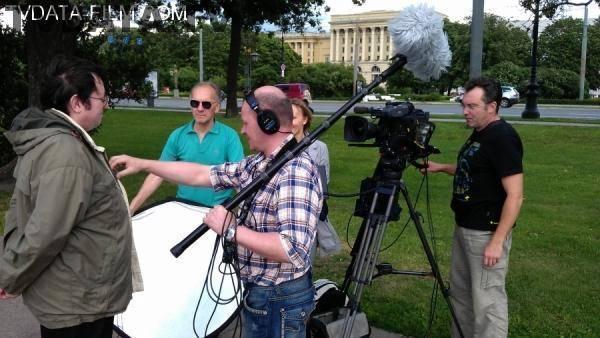 TVDATA provides 24/7 services for film and television projects in Russia. Camera crew rentals, editing, transmitting and producing. www.tvdata.ru is a multiplatform website with a large amount of Russian footage.
If you are looking for a proper location with a picturesque background in Petersburg, a client, Prometheus Entertainment from California, sent special requirements to portray depth, contrast, and texture. For interviews, we use a professional High Definition Camera Sony F900.
A complete list of equipment available on request.
Filming in St Petersburg for Ancient Aliens Series. This program is aired on History Channel. Our television producers are experienced in reporting. They have a good range of contacts for interviews, including political and economic analysts and politicians.