Footage happened on 27th of July 2002. A pilot Volodymyr Toponar and co-piloted Yuriy Yegorov crashed a Ukrainian Air Force Sukhoi Su-27. 2002 Air show disaster tragedy real-time video footage moments of the catastrophic crash, a real-time caught on camera footage. The disastrous event happened during an aerobatics' performance at Sknyliv airfield near Lviv in Ukraine. During the performance of aerobatics, a Su-27 fighter crashed. He fell right into the crowd of spectators. At the scene, 77 people died (including 28 children), and about 300 more people were injured of varying severity. The pilots ejected after the plane hit the ground for the first time and managed to leave it before it collapsed and caught fire. Both pilots survived. The wreckage of one of the planes fell on the Belozerikha gardening association in the village of Rybaki, damaging three houses and a garage. Five residents were injured in the accident. Two men and one woman were hospitalized with severe burns, and later died in the hospital.
Stock Footage the most terrible catastrophe occurred during a public Air Show event.
Sknyliv air show disaster occurred on 27 July 2002
Ukrainian Air Force Sukhoi Su-27 crash video clips from TVDATA aviation footage collection, featuring tragic seconds of sknyliv air show disaster footage.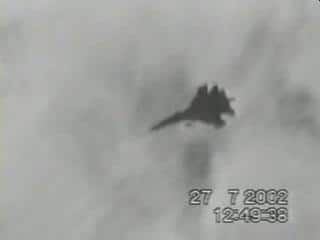 Stock footage video of 2002 air show disaster tragedy. Air show accident filmed in real-time on Betacam SP Pal 720 X 576.
Real time Videos of other terrifying air show accidents happened to Military aeroplanes of a Russian make include MAKS-2009 footage from Zhukovsky airfield near Moscow.
Two Su-27s (Su-27 and Su-27UB), performing a training flight before the upcoming performance at MAKS-2009 (Russian Knights aerobatic team), collided on August 16, 2009 in the air near the Zhukovsky airfield near Moscow. As a result of the collision of Su-27 aircraft, the commander of the Russian Knights aerobatic team, Honoured Military Pilot of Russia Igor Tkachenko, died. He managed to eject, but died due to the ignition of a parachute that caught fire in the air.
Aviation
Air show
military aviation
victims
catastrophe
catastrophes
pilots

Sknyliv Air Show Disaster in Ukraine Stock Footage from 2002 Air show disaster tragedy contains hard to watch moments. Exclusive footage for licensing to include into your documentary feature/ news story or any other video feed.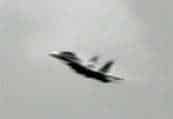 Shocking disastrous real time videos from TVDATA vast footage collection.
TVDATA offers Camera Crew services in Ukraine, including Odesa and Sevastopol.
Stock Footage Research Request + Price Inquiry